Construction and Projects:
Construction and Public Projects:
When a disaster strikes, and after the medical care has been established, the next challenge is to return security and stability to each family and community. In Haiti, AidWEST has been instrumental in the Internally Displaced Persons (IDP) camps, to provide building materials and to help construct shelters, school buildings and related projects.
Using supplies we solicited from companies in our home countries, AidWEST has been able to work on a wide variety of projects in Haiti, including:
A 60-student school building in Canaan, north of the capital,
An outdoor kitchen in the Delmas region,
A latrine for handicapped and recovering victims at the Dominican Republic border,
Benches and desks for a school building,
Outdoor stairs for a school,
Outdoor sports equipmentfor IDP resident diversion.
AidWEST envisions bringing construction teams to help build new residential and business structures, and especially to prevent further loss of life during storm and hurricane seasons. We hope our Initiative will encourage other groups to do join in, for many months to come. Lives are literally depending on such efforts!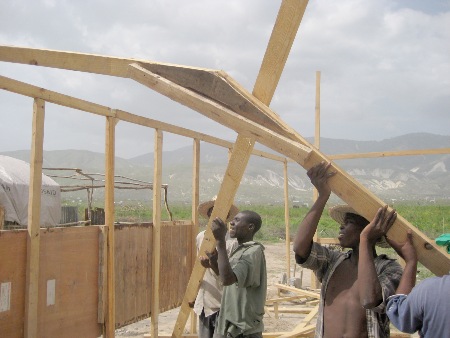 In April, 2010, AidWEST volunteers funded and helped construct a 60-student classroom in a remote, rural area north of the capital. Since many thousands of victims had been relocated to these mountain foothills, the need was intense for educational facilities. Business contributions were one of the keys to our success in this endeavor.
In the ensuing years, AidWEST transitioned from critical care and constuction, so that Haitian business could return to support their people. We began supporting a school for the most impoverished children and also a youth club on the island. In 2021, a Go Fund Me campaign raised more than $1,200 to send to our field director, M. Dominique Tombeau, who is also founder of a school in Port-au-Prince.