Supporting Critical Needs in Humanitarian Crises
AidWEST was founded during the first few days following the devastating 2010 earthquake in Haiti. In catastrophes such as this, not only are thousands killed but many more are severely injured, orphaned, separated and traumatized. In the early weeks following such disasters, large organizations slowly gear up to send medicines, doctors and nurses. But in Haiti, and in other recent disasters in impoverished places, the staggering numbers of casualties far exceeded the capabilities of the initial influx of professionals. Doctors and nurses are simply overwhelmed by the needs tens of thousands of patients have for labor-intensive procedures.
AidWEST has made its presence known in other nations since then.  In September, 2010, AidWEST Executive Director John Elliott made three trips to the border of Egypt and Gaza, Palestine, to bring donated shipments of antibiotics.  Through the efforts of AidWEST Egypt Field Director Hamdy al-Azazy, these desperately needed supplies were successfully received by the Red Crescent and delivered to clinics in the Gaza Strip. In December, 2021, John delivered medications, pain relief pills, and children's toys to dozens of individuals in Cuba during a three-week exploration of the island nation.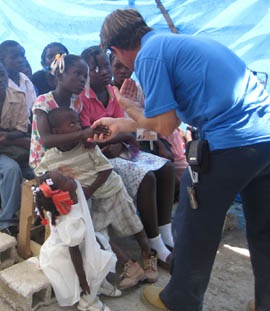 In the first week after such a catastrophe, wounds need immediate attention, bandages need changing daily, and medicines and antibiotics must be distributed to reduce suffering and prevent infection and needless amputations. Local hospitals are often destroyed and time is of the essence! In the next few weeks, more help is needed to help patients recover and receive physical and emotional therapy. And for months afterward, long after the world seems to have forgotten the sad scenes, the victims need care and shelter.
AidWEST was organized to provide groups of volunteers who can perform desperately needed services, during the critical first six months after a crisis or national disaster. The services range from medical support to shelter construction to restoration of educational and spiritual resources. This is a "direct action" approach, for people who wish to do more than just donate money to large and institutional groups which cannot move with the needed speed and precision. Our volunteers are women and men from all walks of life, with the only common factors being an internal resolve to deal with emotional challenges, a willingness to perform both mundane and life-saving roles, a compassion that seeks to mitigate suffering, and a drive to learn as many new tasks as possible and appropriate, to the level of their abilities.
AidWEST
We are a 100 percent non-profit organization. Our volunteers have often contributed more than just the small program fee, to provide a little extra to the people in country whom they befriend and serve. AidWEST does not have any salaried positions nor overhead.  Every penny is accounted for, with records for each mission available for the asking.
You can be an AidWEST team member or support volunteer. Please contact us find out more about meeting the challenge to support those in need.